Acoustic Guitar Strings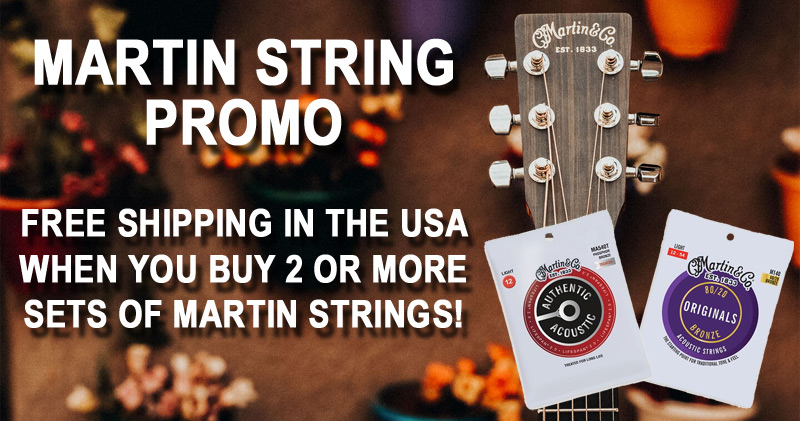 1. Add 2 (or more) sets of Martin or Darco strings to you cart
2. Select the USPS First Class Shipping option
3. $4.95 shipping amount will be discounted at checkout

*May not be combined with other sales or discounts
*Valid Thru May 31, 2022




The best acoustic guitar strings level up your unplugged sound. Strings and Beyond has steel and nylon acoustic guitar strings wrapped in a variety of materials, available in the gauges that suit your style.
Brand Guide: Acoustic Guitar Strings
Acoustic guitar strings come in many different varieties, and at Strings and Beyond, we have both the time-honored classics and the latest technological advancements from the world's leading string manufacturers.
Martin has been long respected for their high-end acoustic guitars. We offer several of their acoustic string lines, including Lifespan 80/20 Bronze or Phosphor Bronze Treated, 80/20 or Phosphor Bronze untreated, FX Flexible Core, Marquis and Darco strings. We also carry Clapton's Choice Phos Bronze acoustic guitar strings, endorsed by guitar legend Eric Clapton.
From Curt Mangan, we offer phosphor bronze, 80/20 bronze and coated phosphor bronze strings.
At Strings and Beyond, you can find metal alloy strings and coated strings from D'Addario, GHS and Elixir, as well as a range of Ernie Ball acoustic guitar strings.
Which Acoustic Guitar Strings Are Right for You?
Bronze strings project a bright tone compared to other alloys. Phosphor is frequently added to the plating for extra durability and a longer string life. 80/20 bronze indicates a wrapping around the core string of 80 percent copper and 20 percent zinc. The zinc provides extra protection against corrosion. Specially coated strings will also protect against damaging debris, sweat and skin oils that can dampen the tone. Silk and steel wound strings use silk filaments and silver-plated copper wire over a steel core, which produces a soft, mellow tone for a classical guitar sound.
Why Buy Acoustic Guitar Strings at Strings and Beyond?
Browse the discount acoustic guitar strings at Strings and Beyond for some amazing bargains on high-quality products. All qualifying orders ship free, and our friendly, knowledgeable staff are happy to help guide you to the best choice for achieving your full musical potential.