Martin Guitar Strings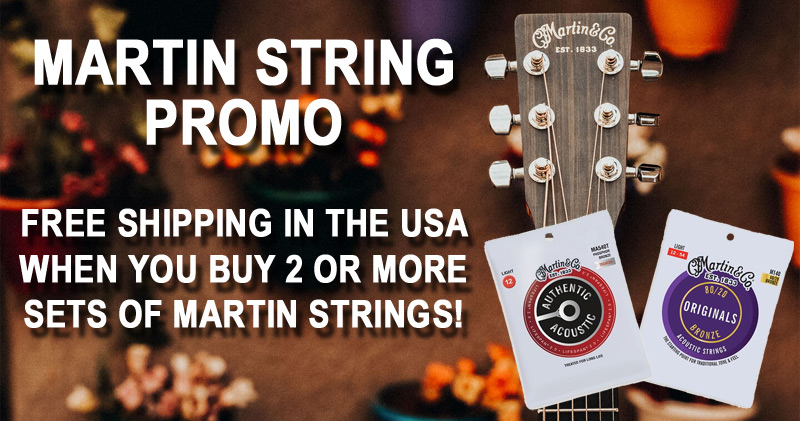 1. Add 2 (or more) sets of Martin or Darco strings to you cart
2. Select the USPS First Class Shipping option
3. $4.95 shipping amount will be discounted at checkout

*May not be combined with other sales or discounts
*Valid Thru May 31, 2022


C.F. Martin & Company is legendary for crafting some of the finest guitars ever made. Founded in 1833, Martin is recognized as one the world's best, and their instruments have been strummed by luminaries like Gene Autry, Elvis Presley, John Lennon and Ed Sheeran. Martin guitar strings are designed with the same attention to quality and performance. Combining unrivaled craftsmanship with an unwavering commitment to sustainable and responsible manufacturing practices, C.F. Martin & Company continues to play the lead in top-notch musical equipment.
Martin Strings for Many Instruments
We carry the complete line of first-class Martin acoustic guitar strings alongside Martin classical guitar strings and options for electric instruments. We also have Martin ukulele strings, bronze mandolin strings, nickel wound Vega banjo strings and nickel alloy dulcimer strings.
Types of Martin Guitar Strings
Martin's Lifespan SP series guitar strings are treated with proprietary coating technology, which repels dirt and oils and extends the life of the strings, maintaining tonal quality and natural feel. The 80/20 or phosphor bronze Martin acoustic guitar strings are made for long-lasting daily use. In the Acoustic FX series, each string is made with a special thin wire core for improved sustain and increased flexibility. These strings are available in silk and phosphor, 80/20 bronze and phosphor bronze. The Marquis Series are retro strings perfect for vintage instruments with their silk-wrapped balls to reduce bridge wear. The Clapton's Choice strings, the preferred string of legendary guitarist Eric Clapton, have a clear and warm tonal quality that will enhance any player's sound and bring out subtleties in their style. Martin's Acoustic SP series is especially recommended for studio and live performance use when long string life is especially important. The Darco Series offers special value while still delivering on superbly engineered quality for acoustic, electric and classical guitars.
Why Buy Martin Guitar Strings at Strings and Beyond?
No matter what your musical needs and preferences are, Martin guitar strings are the expert-recommended choice. Find a wide selection of Martin guitar strings and accessories in stock at Strings and Beyond. Plus, all qualifying orders ship free from String and Beyond.